We all know getting a good night's sleep has many health benefits, both physical and mental, but getting some serious shut eye for the whole family can be easier said than done!
Here at Cheeky Rascals, we love innovation, especially new technology that is designed to make parenting easier and with Sleep Awareness Week currently taking place (Lullaby Trust), and World Sleep Day being celebrated on Friday (18th March), we wanted to take a moment to share our top 10 favourite innovations that will certainly help the whole family get their 40 winks.
No need to keep counting sheep with these sleep tech heroes and recommendations below!
Owlet Smart Sock - Track heart rate, oxygen level, and sleep trends
It is common for parents and caregivers to feel anxious about leaving their little one while they are sleeping. A trusted monitor is an invaluable piece of tech for any household with young children.
The award-winning Owlet Smart Sock removes that anxiety by empowering parents with the right information at the right time. Giving parents peace of mind wherever they are in the house by tracking the most important aspects of baby's health, the unique Smart Sock technology tracks heart rate, oxygen levels and sleep trends, all in one place. Sending immediate notifications if baby's levels leave pre-set zones.
Misty the Smart Cloud - Thermometer, nightlight, and Sleep Trainer,
A nursery thermometer is a must for new parents to make sure their baby's room is at a safe temperature when they put their baby down to sleep.
You can now monitor your babies sleep environment from an app and always be on hand if it's too hot or cold, thanks to Misty the Smart Cloud from Sweet Dreamers! The clever 4 in 1 product features a soothing light show, sleep trainer and personal assistant, all combined into one! 
Misty links to both a mobile phone app and Alexa, meaning you can easily monitor your baby's sleep environment, together with controlling the functions wherever you may be! The softly changing light show will also help settle your little one to sleep – sweet dreams all around! 
Visit Misty the Smart Cloud on the Sweet Dreamers website!
Rockit Rocker - Award-Winning Portable Stroller Rocker
Keeping baby asleep in a pushchair while out-and-about can be a challenge. There are things to do but babies can have other ideas, which can often be frustrating as parents as they try to 'rock' their baby back to sleep by pushing their pram forwards and backwards.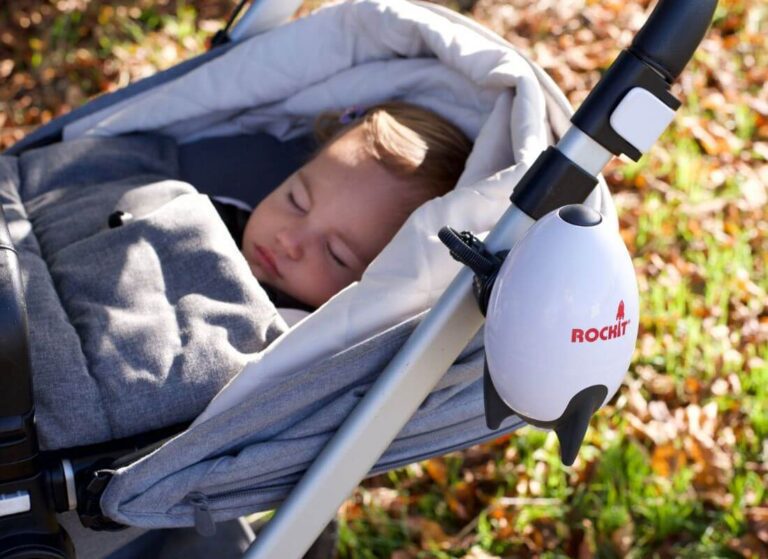 Whether napping at home or on the go, Rockit will ensure little ones drift off to the Land of Nod in no time! The revolutionary Rockit Rocker is a handy must-have accessory that keeps babies moving and snoozing. Simply attach to any pram or stroller, push the button, and adjust the speed.
Inspired by sleep science! As this moves the vibration level closely mimics the normal hand rocking of a pushchair, so parents can now use both hands whilst their baby is safely soothed to sleep. 
Crane Drop 2.0 - 4-in-1 Humidifier With Sound Machine
When babies experience any irritation or blockage into their airways, such as a cold this can be very disruptive to their sleep. This is because new-born babies only breath through their noses for the first 4 to 6 months of their lives. This can lead to restless and noisy nights which impacts both babies and parents' sleep.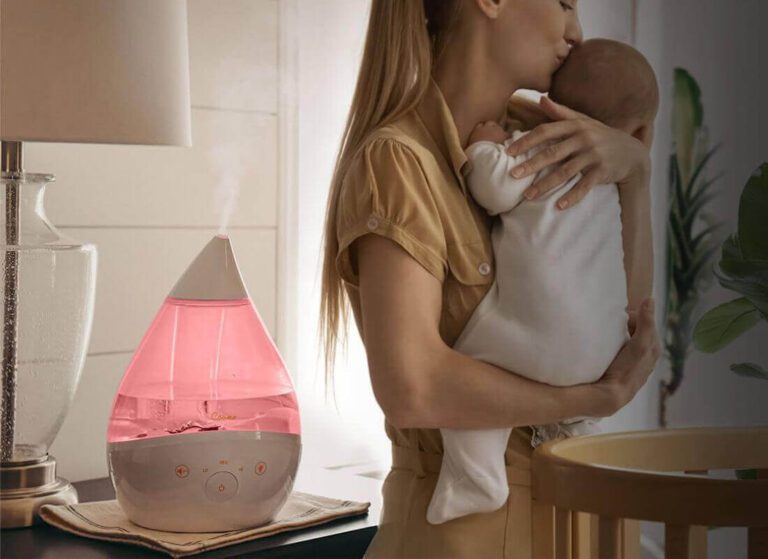 A cool mist room humidifier can help relieve dry and stuffy noses, making it easier for your baby to breath, feed, and sleep. The Crane Drop 2.0 4-in-1 Humidifier With Sound Machine features a large water tank with allows the humidifier to run through all-night, unlike many competitors.
The ideal baby gadget for your little one's bedroom Crane is not just a humidifier. With additional features such as the built-in sound machine with 3 calming sounds from the natural world, an optional nightlight with 7 colour choices and an Aroma tray, to further offer relaxation for quality rest and sleep. 
Rockit Wooshh - Small, but Mighty Sound Soother
Have you ever heard parents make shushing sounds to make their baby drift off to sleep? Perhaps you have even done so yourself. The Rockit Wooshh is a small, but mighty sound soother that is designed to solve this problem.
Parents can choose from 8 sounds and 4 volume levels, to create the perfect environment to encourage their baby to drift off and help mask disruptive noises. The versatile pocket-sized design of the Wooshh allows it to stand, clip, or strap out of the baby's reach wherever you go. This unique and affordable baby gadget will make sleep time just a little bit easier by helping babies snooze soundly.
Baby Brezza Formula Pro Advanced - Baby Formula Bottle in as little as 15 seconds!
Making bottle of formula while baby is crying is not a fun task. Even less so in the middle of the night when it is completely dark, with a crying baby in your arms and time is running short. The traditional way of making formula bottles with a kettle can often be time consuming, unhygienic and difficult to get right first time.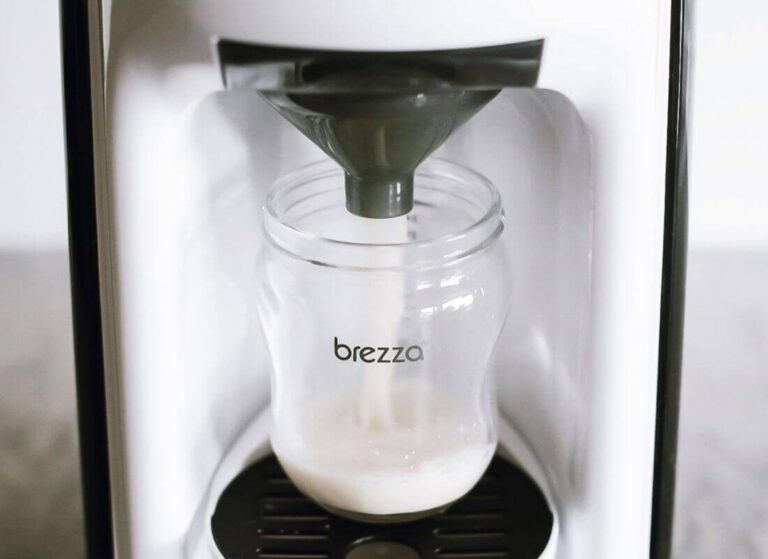 This is where the state-of-the-art Formula Pro Advanced can help. You can now make an automatically mixed baby formula bottle in as little as 15 seconds. This is 80 times faster than the traditional method! With no measuring, no mixing and no fuss in the bottle making process the Formula Pro Advanced can really be a lifesaving gadget for parents of formula fed babies.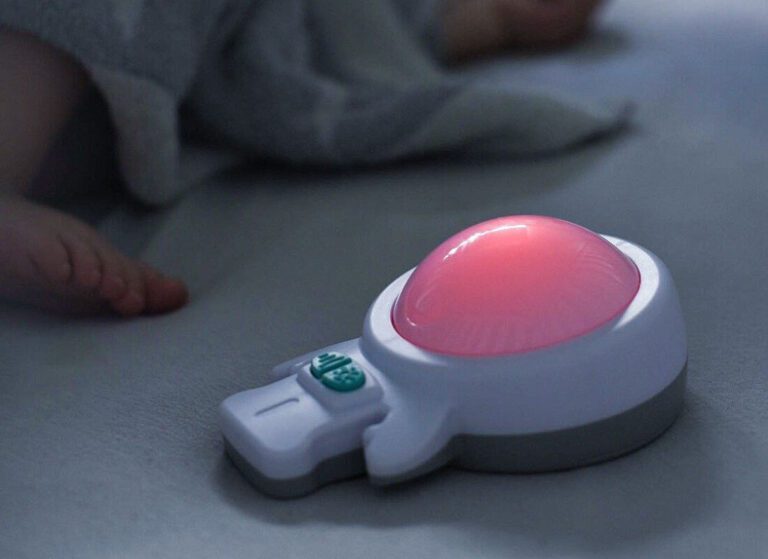 Recreating the soothing low-frequency vibrations that are experienced during car rides, Zed will send all babies to sleep. Simply place Zed on the mattress by baby's feet, press the snooze button and the soothing vibrations will ripple through the mattress, comforting and encouraging a deep sleep. Features 6 calming vibrations, and a calming red night light which can be used as a portable night light making Zed a great gadget for night-feeds too. 
Infantino Dream Buddies - 3-in-1 Projector Musical Mobile
The brand-new (and super cute!) Dream Buddies 3-in-1 Projector Musical Mobile from Infantino offers soft lighting, charming melodies, and adorable soft characters to encourage little ones to join them in dreamland. Even better, as little ones grow this thoughtfully designed product transforms into a crib night light & multicolour star projector.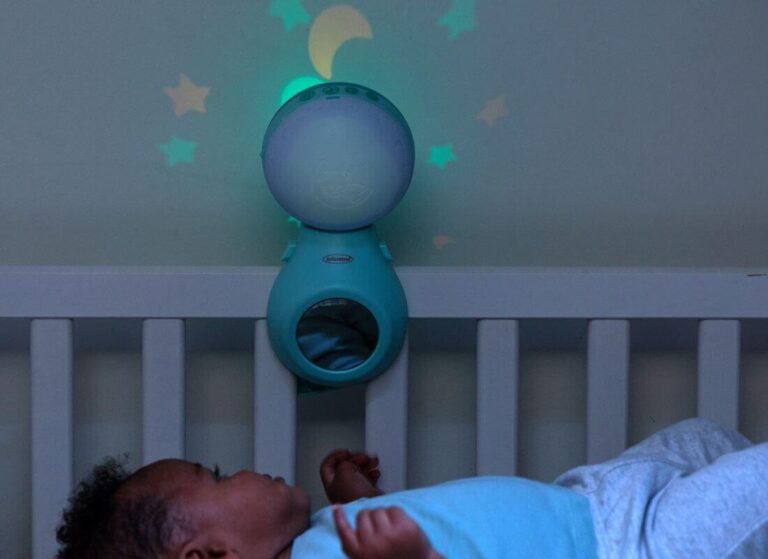 Owlet Cam - See & Hear Baby From Anywhere
Seeing your baby safely asleep is important to many parents and care givers. The Owlet Cam is a Smart HD Video Baby Monitor that provides a total 1300 wide-angle view of baby, from anywhere directly to your smartphone.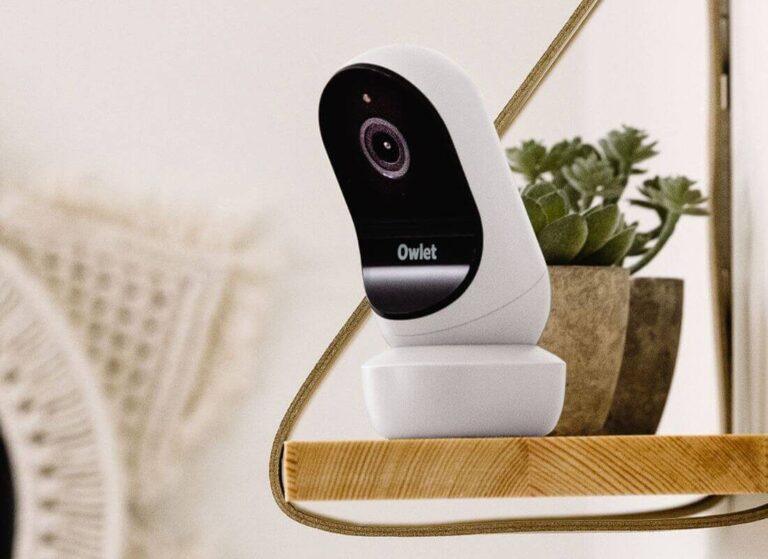 More than just a baby monitor, The Cam offers innovative features such as 2-way talk, background audio, room temperature sensor, night vision, encrypted WiFi connection, sound & motion detection alerts. Plus, never miss a moment on the handy Owlet App.
Owlet Monitor Duo - Most Advanced Snapshot of Baby's Well-being
The Owlet Monitor Duo offers the intelligence of both the Smart Sock and Cam, combining both monitors in the ideal bundle. Owlet are truly revolutionising the traditional baby monitor with their range of baby gadgets.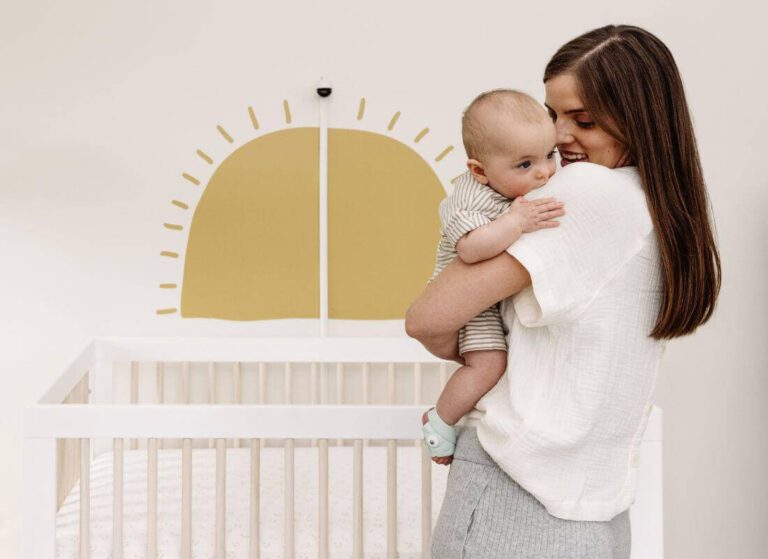 The Owlet Monitor Duo seamlessly pairs the Owlet Smart Sock and Cam on the Owlet App for the most complete picture of baby's well-being. Including heart rate, oxygen level, and sleep trend tracking while streaming HD video. 
Now that you are all set for your baby to have a relaxing night's sleep. Why not treat yourself? 
HotTea Mama
Once you've got your little ones to sleep, you can enjoy some down time with HotTea Mama! 
HotTea Mama is an award-winning women's wellness and pregnancy tea company, making teas to support better periods, pregnancy, motherhood and menopause. Each tea is a hug in a mug, specially blended using tea science, to support you when you need it most. Ideal after long day, with relaxing botanicals including chamomile flowers, valerian root, lavender, and lime flowers, the Night Owl tea is ready to sooth a tired soul!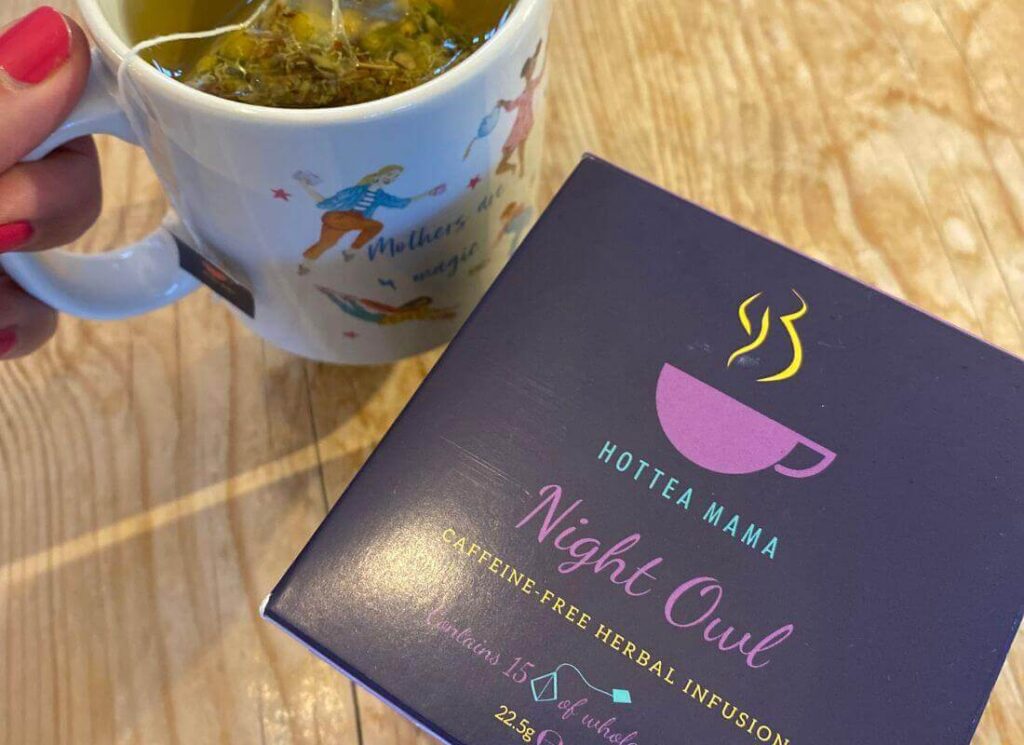 Looking for sleepwear that is kinder to the environment?
Polarn O' Pyret
Nothing says a good night's sleep better than some cosy pyjamas, and Polarn O' Pyret is prepped to have the whole family looking the part for the Land of Nod! 
Made from 100% organic, cosy cotton and designed to last for years (thanks to folding cuffs, that unfold as they grow!), the brand is proud that the quality PJs can be handed down at least 3 generations! The iconic stripes are available in multiple gorgeous colourways, as well as super seasonal prints and colours that will be loved by all!