Anna Brotherton (@lifewithlara)
The best thing about the Lascal Buggy Board mini is the versatility element. It is easy to clip on, clip off and place in your pushchair basket or tie up using the provided connectors. This feature stood out as a positive as it made the product more parent friendly depending on whether you have both children with you or one child for part the way, e.g. a school run etc meaning it can be added or removed with ease. 
The product itself is sturdy and as a parent of 2, I felt it was safe to use with my 2 year old toddler. It was relatively easy to set up, but you do need access to the internet or a smartphone to search for your pushchair's specific requirements in terms of cotterpin location, measurements and height adjustment. 

I love the design, as did my daughter. She did think it was a chair at first so I had to explain how it was used. We watched a YouTube video of children using the buggyboard and she then understood better.
For her, the ability to see her 4 month old sister, talk to her and watching them interact is priceless. Certainly something which she cannot do when my pushchair is set up as a double in tandem mode. As such, the BuggyBoard definitely wins here for me. My two year old saw herself as 'riding' with her sister in this set up as she was able to see her sister but doesn't consider it the same when in a tandem pushchair. 
My pushchair is the Uppababy Vista, using the recommended set up, Lascal require the extenders to be used, which are provided in the box. Presumably this is to give the child adequate space and they are not touching the basket, which on the Uppababy, is large. However, the only downside to this is that the BuggyBoard itself comes out quite far. Unless you are very tall or have long arms, there is some risk of either kicking the board as you walk or overstretching your arms to reach. I am taller than average and normally I have the pram handle extended as normal but even so it is still difficult to reach with the BuggyBoard attached. I found it most comfortable to walk alongside rather than behind the BuggyBoard itself. Having said that, I think if I reduced the length of the extenders it would be more comfortable for me but I wouldn't consider it personally as I wouldn't want to compromise on safety or deviate from the recommended set up.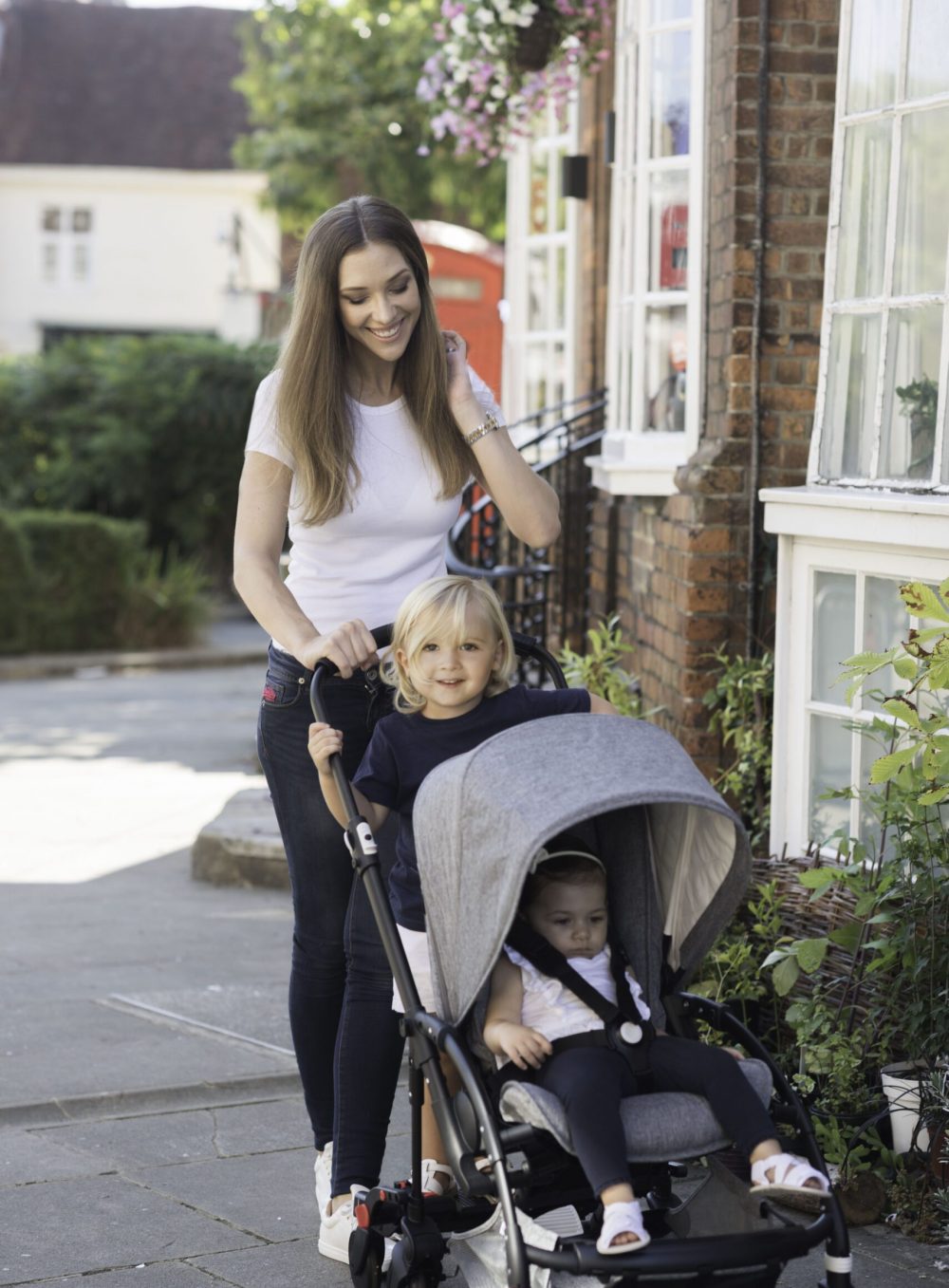 Overall, I felt this product is great for parents who want flexibility when walking with their older children who perhaps don't like being in a pushchair anymore. My daughter enjoys riding on it and we have been on multiple terrains with ease, although it makes a lot of noise on bumpy ground. The design is fun and really appealing to my toddler. She especially liked being able to see her sister and interact with her, this was absolutely lovely to see. It's not the most comfortable product to use as the parent but then again I see this as more of a convenience add on accessory rather than something for very long walks.  
Thanks for the opportunity to review this product. 
Walking at your toddlers pace, especially when they're tired, is not an ideal situation! The Lascal Mini BuggyBoard is the smart, user friendly, universal solution for giving tired toddlers a safe and practical lift; designed for kids 2-5 years old
The patented easy-fitconnection system allows the BuggyBoard to securely fit 99% of pushchairs.
Innovatively designed, the suspension system with large durable wheels ensures a comfortable ride around corners, over kerbs and through doorways.
Keeps Child Safe in crowds and high traffic areas, with the large anti slip surface, side protection and reflective decals.
Quick and easy solution for when not in use; the Strap & Hook to clip the board up ( as seen in image 2) .
Silvee Made for Mums Award 2020 : Awarded for best travel accessory – the only on-board riding system to recieve recognition! 
Lascal Mini BuggyBoard – Rainbow Splash
Many thanks to Anna Brotherton (@lifewithlara) for this review!