Becoming a new parent is a remarkable journey, filled with joy, love, and a fair share of challenges. As friends or family members, we often find ourselves searching for the perfect gift to celebrate this life-changing event. But with so many options available and always 'the next best thing' around the corner, choosing a thoughtful and practical gift can be a daunting task.
To help you navigate this journey of gift-giving, we've compiled a list of our top 10 recommendations for gifts that new parents will genuinely appreciate and cherish.
Our top 10 new parent gift recommendations:
 Gifts for new parents under £50
No need to break the bank! These gifts are not only budget-friendly but also wonderfully practical and heartwarming.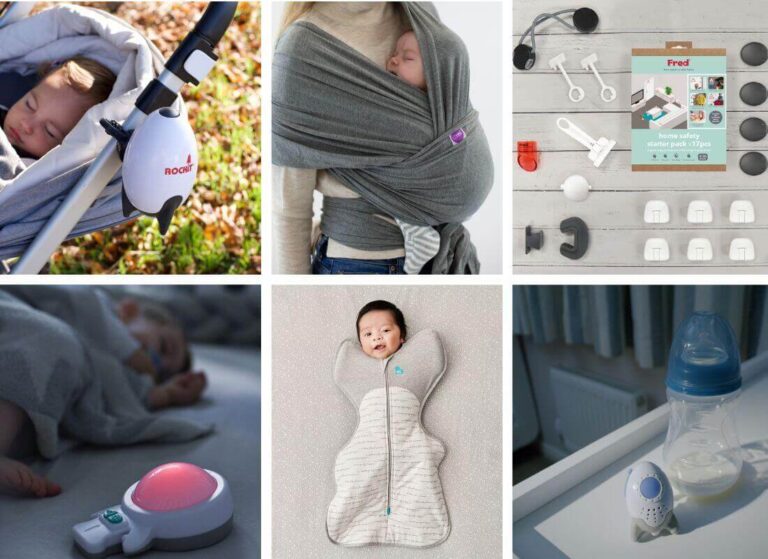 New parents will be going everywhere with their trusty pushchair but can sometime struggle to keep baby snoozing whilst they are out and about. Especially if the pram has come to a halt as babies become used to the constant movement of rolling along.
The Rockit Rocker is a revolutionary accessory designed to help parents on the move. It attaches easily to a pram or stroller, providing a gentle rocking motion that soothes the baby to sleep.
This gift allows parents to enjoy some well-deserved peace and relaxation, whether it's sipping on a cup of coffee or managing the supermarket checkout hassle-free.
2. Love To Dream Swaddle Up Warm
New parents quickly learn the value of sleep, and the Love To DreamTM Swaddle Up Warm can be a game-changer in this regard. Its innovative design and exceptional functionality have not only won over the hearts of parents but have also been scientifically proven to extend babies' sleep duration.
All this making it a truly invaluable gift for those navigating the early stages of parenthood. If they have a winter baby the Swaddle Up Warm is ideal for keeping little snug in cooler indoor temperatures.
The Rockit Wooshh is a compact sound soother that provides 8 customisable soothing sounds, helping babies fall asleep easily.
Replicating the effect that parents shushing sounds have on their little one. Choose from sounds including a stream, heartbeat, relaxing purring cat and even a genuine outer space noise – used with the kind permission of NASA!
It's an affordable and unique gift that lets parents enjoy the holiday season without worrying about waking their little one.
4. Fred Home Safety Starter Pack
With the holiday season approaching and the prospect of busier households looming, parents naturally shift their focus toward the importance of safety in the home.
The Fred Home Safety Starter Pack includes a range of safety products to protect children from common household risks.
All feature a modern and discreet design, helping you keep to the aesthetics of your home and ensuring a safe holiday season for the whole family.
A baby wrap is a lifesaver for new parents, allowing them to keep their newborns close and secure while having their hands free.
The Izmi Essential Wrap is the perfect place to start as it is suitable from birth and offers two easy carrying positions.
This thoughtful gift promotes bonding between parent and child and simplifies daily activities.
Getting baby to seep in their cot can sometimes be a tricky game. Enter the Rockit Zed, a remarkable innovation that effectively recreates the gentle vibrations babies typically experience during soothing car rides.
Also featuring a red night light that contributes to the promotion of melatonin production, a natural sleep aid.
For parents who have discovered that their baby sleeps particularly well during car rides, this gift can be a game-changer, allowing them to enjoy peaceful moments at home.
 Gifts for new parents over £50
Have you been saving up for something special? These gifts are not just presents; they are investments in the moments that matter.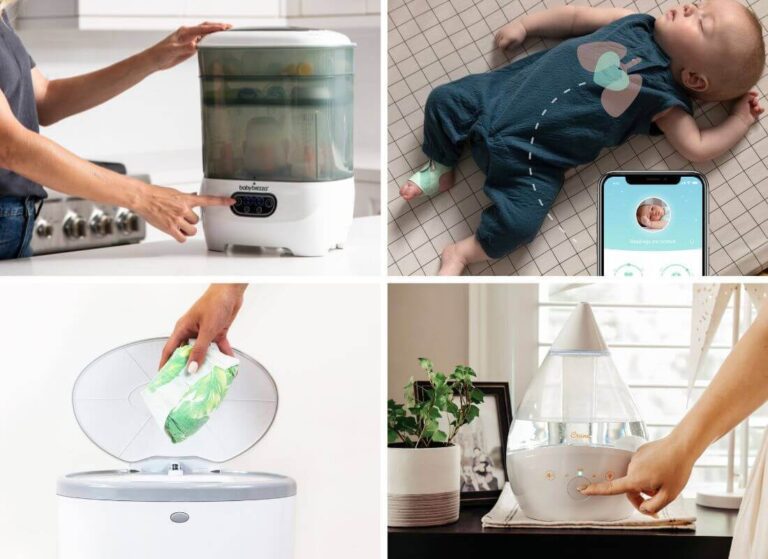 7. Baby Brezza Steriliser Dryer Advanced
Sterilising baby bottles and accessories will become a daily task for new parents, and it can quickly become overwhelming to keep on top of.
The Baby Brezza Steriliser Dryer Advanced makes this process much more manageable. It's most advanced way to sterilise & dry bottles, breast pump parts and baby accessories, killing 99.9% of germs with natural steam, and automatically drying. With the largest capacity the market and a fully customisable modular design.
It's a gift that eases the burden of sterilisation, allowing parents to focus on the many other aspects of caring for their baby.
8. Crane Drop 2.0 4-in-1 Humidifier With Sound Machine
This is especially useful if baby is experiencing any snuffles that can impact their nose breathing. More than a humidifier, Crane also features a white noise sound machine with three soothing sounds, a nightlight that boasts seven different colours, and an aroma tray.
A gift that truly encompasses all the essentials for creating a serene and soothing environment for little one.
While not the most glamorous gift, the Korbell Nappy Bin is undoubtedly a practical one. It's designed with economy in mind, reducing the need for expensive refills or disposal technology.
It is also long lasting, with the Classic model holding up to 45 nappies at a time with each liner lasting for up to 495 nappies, averaging for around 10–11 weeks of use!
This gift simplifies the often-dreaded task of nappy disposal, offering parents of new babies' ease and efficiency during a time when they need it the most.
The time has come to revolutionise the traditional baby monitor. The Owlet Smart Sock is a gift that provides parents with peace of mind.
Through cutting-edge technology, it continuously tracks your baby's vital signs and sleep patterns, offering real-time insights that allow parents to unwind and rest assured, knowing their little one is secure and content.
For new parents seeking an extra layer of comfort and assurance, the Owlet Smart Sock is the ultimate gift choice for those embarking on the incredible journey of parenthood.
Finding the perfect gift for new parents is all about making their lives easier and more enjoyable during this transformative time. These thoughtful and practical gifts can help alleviate the challenges of parenting and create precious moments of relaxation and joy. So, whether it's providing a little extra sleep or ensuring a safe and nurturing environment, these gifts are sure to be appreciated by any new parent.