When you're buying for a newborn, chances are you're thinking about the essentials. They'll need blankets, nappies, a pushchair, baby-grows, and wipes. Right?
While this may do for a little while, babies grow up all too quickly, and once they are mobile, you'll spend much of your time attempting to keep them out of things and areas of your home that could potentially be hazardous.
After all, exploring and experiencing things is important to their development. It's for this reason that investing a bit of time and money into making your home as safe as possible is vital. But where do you start?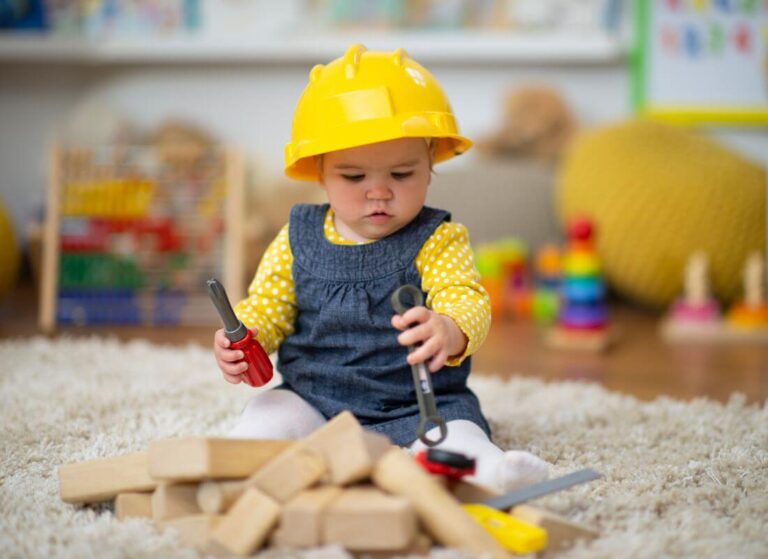 Keep in mind that babies aged 8 months+ love copying what they see mum and dad do. They want to walk like you and play with the same things you do. So don't be surprised when they begin passing over those toys you just bought and heading straight for the scissors, your phone, your tools or cookware. All of these items are enormously appealing to them because they see you 'play' with them all the time.
One of the best (and free!) ways to keep your baby safe from these items is to keep them out of reach. But you can still indulge their behaviour though (remember, they are learning!) by buying baby-safe versions of those items. They love to have their own set of pots and pans or a mobile phone so they can join in on your next conference call. 
However, keeping your baby safe involves more than just putting certain items on a higher shelf.
Here are a few other safety items you may need to consider buying for your baby...
Safety gates can make life much easier, even if you live in a single storey home or apartment, by keeping your baby contained to certain parts of the home while exploring. Place stairgates at the top and bottom of stairs to prevent falls.  They can also be used to keep crawling babies and toddlers away from the kitchen or keep pets at bay too.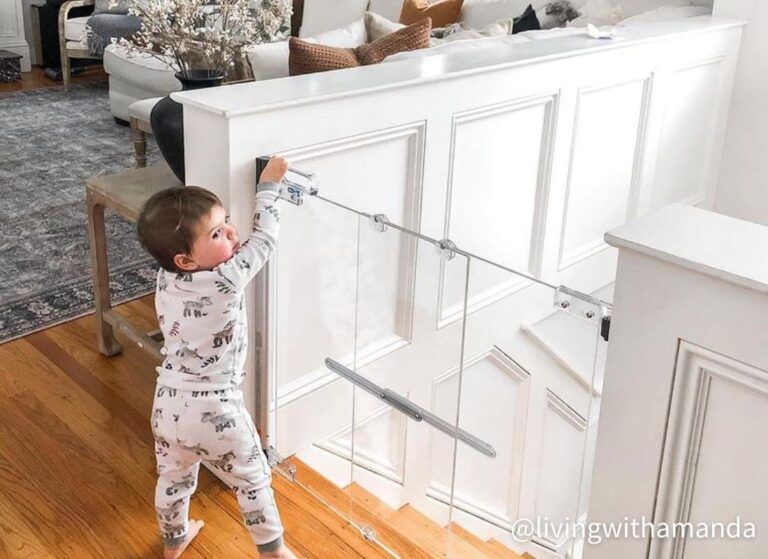 The unique design of the Fred Safety Clear View Stairgates is stunningly clear, yet strong and durable. With sturdy and subtle fittings that will help create a safe child-friendly haven in your home.
2. Smoke & Carbon Monoxide Alarms
These alarms are inexpensive and very important to have in your home. A smoke alarm should be in every floor of your home. Change the batteries every year to make sure they are working properly and test them every week.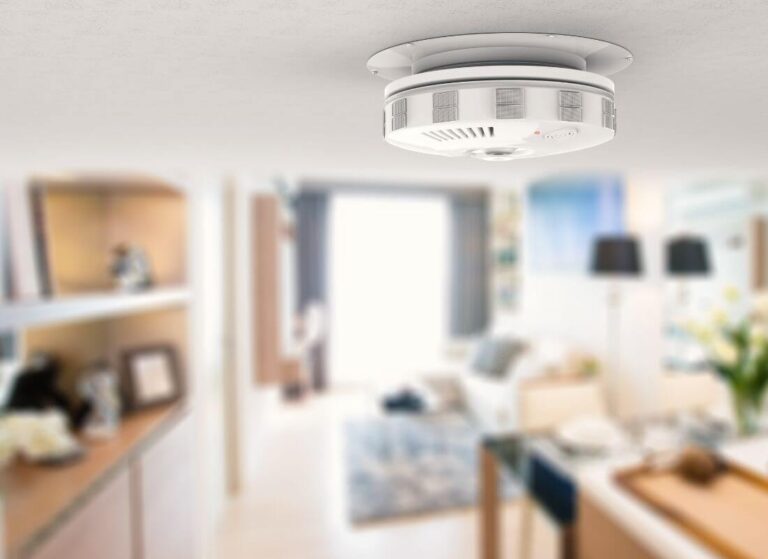 Carbon monoxide is a poisonous gas that you can't see, smell, or taste. Alarms are the only way to detect if a leak has occurred, so place them in any area that has a flame-burning appliance. It is also possible to get a combination detector to help keep your whole family safe.
Fires and heaters need to be well-guarded to prevent tiny hands from finding them and getting burned. Use surrounding guards can help you keep baby at a safe distance.
The modern screwless design of the Fred Stove and Hob Guard keeps your kitchen looking stylish, as well as keeping your little safe. Suitable for a large range of hobs extending from 57-90cm wide and offers side and front protection so hot pans stay out of reach.
Internal doors can present a hazard that is often overlooked, as tiny fingers can accidently get slammed in doors and children could also get themselves locked in a room. You can buy protectors that clip onto the edges of doors to prevent this from happening.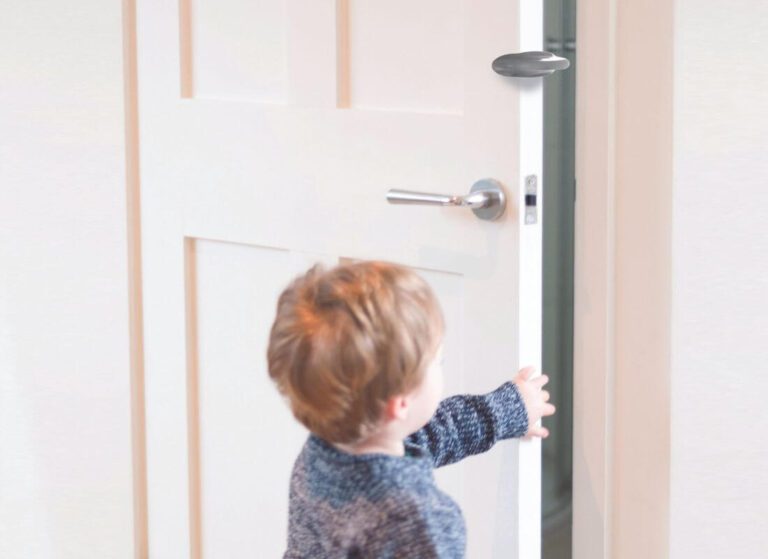 Unlike foam-based door stoppers, the Fred Door Slam Stopper has been designed to always stay in place. Made from bite proof and choke safe non-toxic plastic material, with no chance of biting off a chunk.
5. Cupboard Locks and Guards
Small children are naturally curious, especially if there are closed cupboards and drawers involved. That is why it is important to invest in high quality locks and catches. Fred Safety products always require a 2, or even 3 way toddler proof action – making them unbeatably child proof.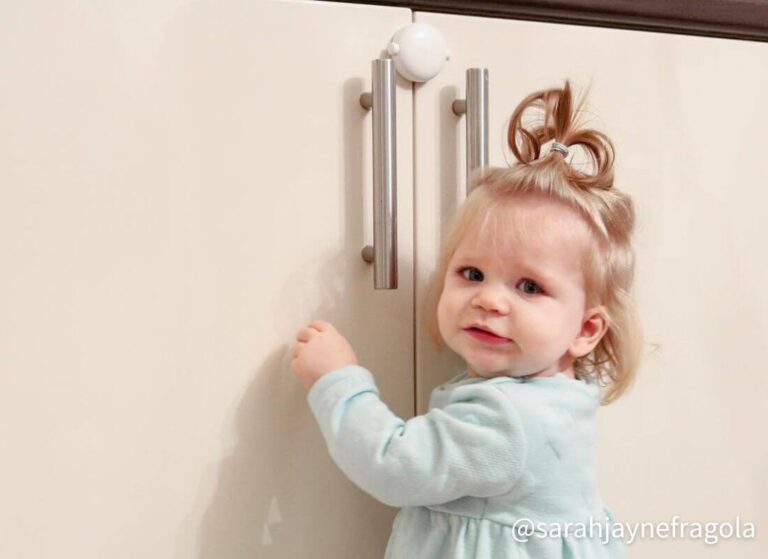 The Fred Home Safety Starter Pack contains a mix the most popular safety products from Fred, to help protect against common risks in the home. Including 1 Top Drawer Catch, 2 Lower Drawer Catches, 1 Multi-Purpose Block, 1 Double Door Block, 4 Corner Protectors, 6 Socket Covers, 1 Door Slam Stopper, 1 Choke Tester – 17 items in total!
Your baby will be crawling before you know it, so now is the best time to start investing in tools and equipment to baby proof your home as soon as you can!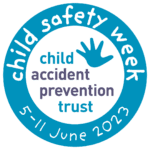 Did you know that Child Safety Week 2023 runs from Monday 5th to Sunday 11th June? The event is organised by the Child Accident Prevention Trust every year as an education campaign to help introduce safety conversations and activities for thousands of parents in the UK.
Find out more and download free safety resources on capt.org.uk