Size and Temperature Guide
Here you can find our recommended guides for sizes and clothing temperature ratings that you will need to consider when using Love To DreamTM swaddles and sleepsuits.
If you are still unsure please do not hesitate to contact us.
Please note: Ages, weights & heights are approximate.
For best fit please select size according to your child's weight, not their height or age. You must stop using Stage 1 Swaddle UpTM swaddles when your baby shows signs of trying to roll and transition to the Stage 2 Swaddle UpTM Transition Bag.
Which temperature ratings should you follow?
LOVE TO DREAMTM aims to empower parents to choose the right products from our range that best suit their children's needs. 
Every baby feels hot and cold differently to another, and as ambient temperatures often fluctuate, different clothing and sleepwear layer combinations will differ in their thermal effectiveness.
These factors can often make it challenging to give temperature advice to parents and caregivers.
To help guide parents, the following temperature-based rating system has been developed.
This system has 5 key categories to support parents and carers in choosing the right garment/s:

WARM – ideal for room temperatures between 24 °C and 27 °C

MILD – ideal for room temperatures between 18 °C and 24 °C

COOL – ideal for room temperatures between 16 °C  and 20 °C
COLD – ideal for room temperatures between 14 °C and 16 °C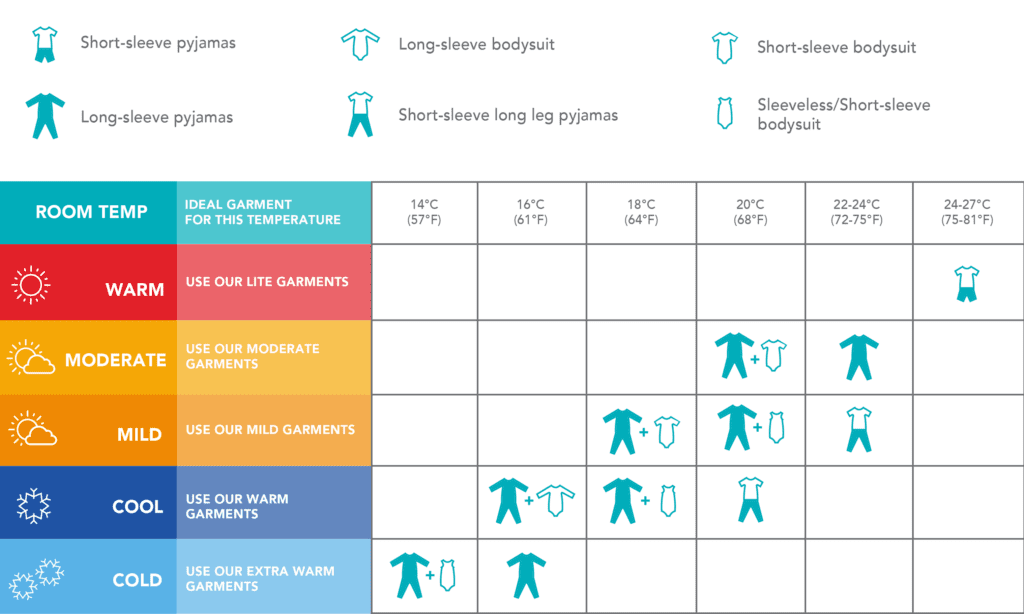 Please note: The table is only a guide. All babies are different. The number of clothing layers may vary according to a baby's health, physiology, and the temperature in the room. The caregiver must determine what is suitable.
Always check your baby regularly to ensure that they are comfortable and that they do not overheat. If you would like any more advice please get in contact with us.