Did you know that it's organic food month? The annual celebration which aims to promote organic produce and highlight the benefits of organic farming on the environment.
It's a great time to try out organic options for your family, and remember, choosing organic doesn't have to be all or nothing! Just whatever works best for you. To help celebrate this awareness month, we have developed a scrummy baby purée recipe including lots of nutritious and tasty ingredients.
240g of a berry, or berries of your choice (e.g. raspberries blueberries, blackberries)

1 Medjool Date, pitted and diced

1 teaspoon of chia seeds
"Little in size but large in nutrition – berries are loaded with Fibre and Vitamin C, making them great for regular bowel movement and super immunity boosters."
How to make your homemade purée :
Place all ingredients into the Baby Brezza Food Maker Deluxe and press "Steam + Blend" for 10 minutes (only need one step!)
Let cool and thicken in the refrigerator overnight.
Chia seeds have so many health benefits: they're high in fiber, protein, omega-3 fatty acids, calcium, magnesium, and phosphorus – among other nutrients. When mixed with a liquid, chia seeds plump up and take on a gelatinous texture, like a pudding, so don't worry if your puree gets a little thicker after it has been refrigerated. If you want a thinner puree, simply add a little more liquid and stir before serving. We recommend this recipe for babies 9+ months.
This purée makes a filling afternoon snack for a toddler and adult too. The pudding texture is a healthy treat for all, and it is also a great jam substitute – simply serve on your morning toast as a delicious spread!
Find out more about Baby Brezza...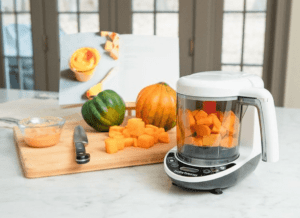 Pumpkin purée for babies – A healthy Halloween recipe As Halloween approaches, it's the perfect time to introduce your little one to the delicious flavour
Read More »